Industrial design is all the rage right now.
Whether you're just starting a business or are planning a renovation, you have probably considered tons of popular styles, yet something about the industrial style simply pulls you in.
Perhaps you appreciate the rawness of the space or you love an open concept. The simple color pallet is very attractive, while the clean, uncluttered aspect is perfect for your workspace.
If you're considering an industrial office design, look no further. We have plenty of ideas for you!
What is Industrial Style?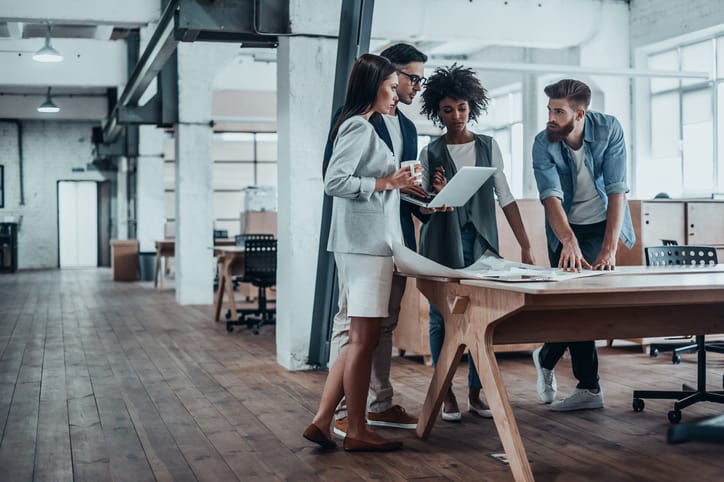 Although it may seem like industrial style has sprung into existence only in the last decade or so, the style began back in the 1960s when artistic types rented abandoned industrial spaces and transformed them into apartments.
Rather than covering up the industrial pieces that were left behind, these designers actually used them to create a vibe.
A space that adopts an industrial style traditionally includes at least a couple of these key elements:
Open layout
Exposed structural elements
Metal/wood
Neutral colors
The simple yet intriguing aesthetic pulls together nicely when paired with a neutral pallet. Browns, tans, and grays tend to pair amicably with the arrangements – though you can always add touches of colors to invoke your personal style.
Let's take a closer look.
Open Layout
Who doesn't adore an open concept? Gone are the days of office spaces with tiny cubicles that strangle your space and cut you off from co-workers.
The more open a layout is, the better.
An open layout essentially tells us that interior walls are optional. Rather than having several barriers split up rooms and narrow spaces, aim for space with fewer walls and more air.
Instead of marking out a space via walls, the goal is to define spaces using furniture and objects. You may have stylish desks lining one wall, while another wall displays an inviting seating area.
Meanwhile, the center of the room features a conference table, and the back of the room has some open shelving and a coffee nook.
Exposed Elements
Perhaps the most apparent component of the industrial office style is the actual industrial elements.
In most modern homes and office spaces, industrial materials such as piping, ductwork, beams, and brick walls are covered by drywall and paint.
An industrial office exposes these elements and builds its style around the rawness of it all, letting the bones shine through and become a part of the room's character.
An easy and popular way to accomplish this look is by having an exposed ceiling that displays the ductwork and ventilation system proudly, along with any structural beams and pipes that may also be up there.
Metal and Wood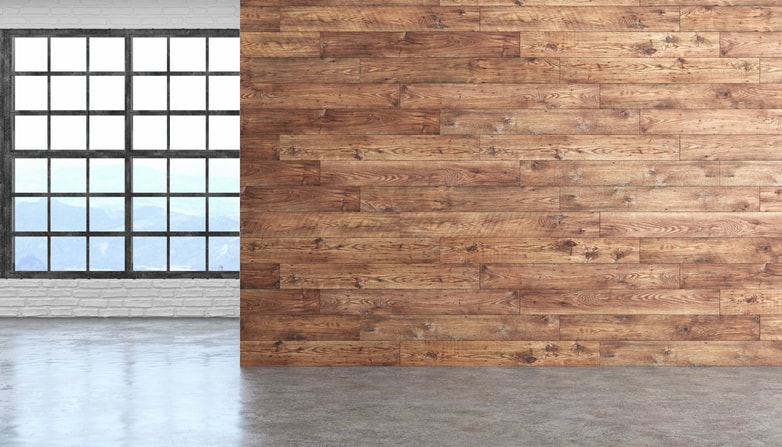 The perfect accent materials for an industrial office setting are metal and wood. Metal certainly fits the industrial theme, and wood is the perfect complement to metal.
While metal can be rough, shiny, and rugged, wooden materials add a certain warmth to the material that brings a piece together.
For instance, many industrial-style desks feature a wooden top with metal legs. This style also works well with a minimalist approach. Rather than a chunky wooden desk, you're left with a thin and stylish workspace.
Brick and Concrete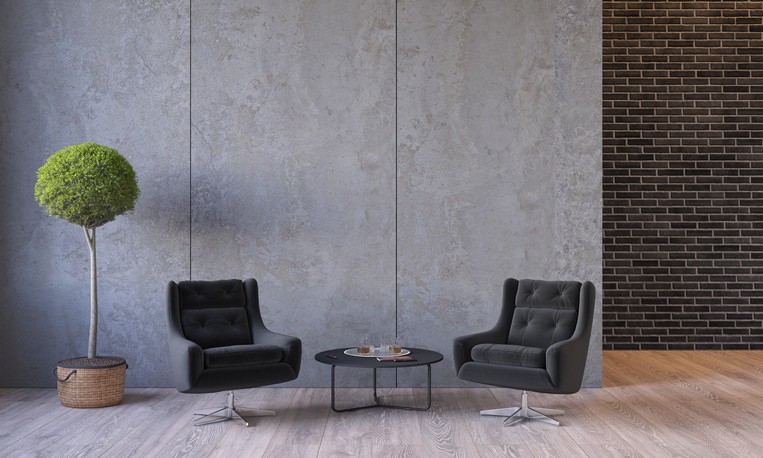 Brick and concrete are also crucial elements to consider including in your office space.
Old brick walls may seem worn-out and dilapidated at first, but when combined with a new wooden wall, some fresh, new windows, and some industrial-style desks, they serve as a chic, rustic focal point of a room.
Likewise, concrete features can also stand out and catch your eye.
Concrete is exceedingly versatile because you can leave it as is, polish it down, apply a matte finish, or even give it a more beaten-up appearance.
You can implement concrete as:
Fireplace
Support beams
Floors
Countertops
Sinks
Windowsills
Desks
If your new office space features any of these elements, consider leaving some of it in for your finished design.
Neutral Pallet
Color pallets can be so incredibly difficult to work through. It can be tough not only to pick the colors you like, but decide on things like accent colors, furniture designs, and everything in between.
An industrial office design makes things easier because it focuses on a neutral color pallet. Colors like tans, gray, and browns work best with all of the other elements we've mentioned, such as metal, wood, and concrete.
But a neutral pallet still leaves room for creativity and your personal touch. Warm hues like dark blues and earthy greens bode well for these spaces as well.
You can even add bright pops of color if you're looking for a bit of flare. An entirely neutral room could give you that "wow" factor if you throw in vivid orange office chairs at every desk or a green backsplash for the coffee nook.
Ideas for an Industrial Style Office
An industrial-style office includes some or all of the various elements we mentioned above. It makes for an excellent workspace, as it minimizes clutter and presents clean lines and open spaces – the perfect place to think and work.
Of course, these elements above often leave the room with bare, cold features that need to be balanced with softer, warmer features for the consummate industrial look. Besides, an excessively industrial space would not be an office design that promotes employee health.
Below, we have a few specific ideas on how you can transform your office into an industrial office space.
Lighting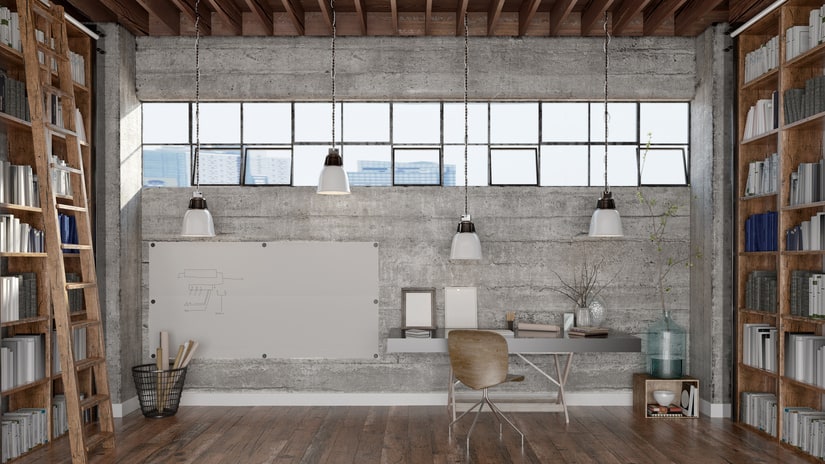 Good lighting can brighten up any space, whether it be an office building or a bedroom.
Industrial lighting styles often include singular hanging lights with exposed industrial bulbs and inky, metal coverings.
Lighting can also equate to wall sconces, industrial chandeliers, and other ceiling lights. You can also accompany these pieces with large ceiling fans.
Plants
Plants add life to any space, quite literally. Not only do the green of most plants add a splash of color, but they can make an open space feel homey and inviting.
Plush Furniture
Most of the elements of the industrial-style office are minimal with clean lines, open spaces, and neutral colors.
One of the best ways to fill in the space and make it more inviting is by adding pieces of brightly colored plush furniture. This can include sizable arm chairs, sofas, and throw pillows.
Area Rugs
Area rugs are great for filling in any space and applying a bit more pizazz and personality to your office.
Concrete or wooden floor will match the overall theme, but leaving it bare can make the room appear uninviting and bland. An area rug easily solves that problem, adding warmth and texture.
If this all leaves you wondering about what you can actually afford, check out this post on budget office design ideas. And please don't hesitate to contact us to talk about what we can do to help you find office space for rent that fits your style, industrial or otherwise!